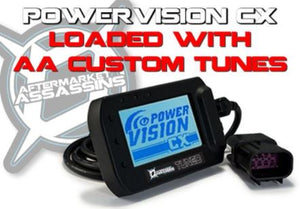 AFTERMARKET ASSASSINS PVCX 2014+ RZR 1000 XP
Big horsepower gains! The factory timing map is very detuned on the XP 1000 models, along with a few key areas of mapping that is lacking. 
MUCH quicker throttle response and power delivery
Throttle by wire limiters disabled
AA's wicked timing curve built for the fuel tune you choose
A great fuel curve that gives much better low end(as well as all around) power as the factory map is very lean in key areas.
Fan on/off temp lowered to 195/185 degrees Fahrenheit
More responsive pedal in low and high
Seatbelt limiter disabled
Speed limiter removed in low and high gears
2 Foot limiters are disabled
Rev limit at a safe 9200rpm (Stock is 8800)
See how to install the tuner in this

 

VIDEO

Very easy to use tuner that can also check and erase most trouble codes
Easily data log 25 parameters with 1 push of a button and review on your windows computer later
No mess of having to send in your ECU, and a safer way of programming your ECU
Level 1: huge increase and can be ran with the stock exhaust, or a slip-on exhaust.  This is seriously worth every penny!  You are looking at a 7-9hp gain with the tune, but the down low grunt is absolutely awesome.  Peak power is 8600-8800 RPM @ 55MPH
Level 2: All the same benefits as level 1, with increased fueling for a full exhaust system. Together with a tune and exhaust you can see 12-14 rwhp gains!  Peak Power is 8600-8800RPM @ 55MPH
To help better transfer the power gained to the wheels, and to achieve proper peak RPM, we highly recommend our AA Recoil clutch kits! 
Due to the time to it takes to custom program these tuners, we will ship within 24-48 hours of purchase.