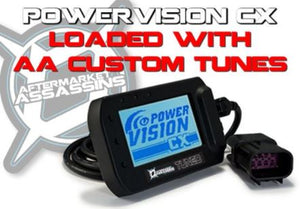 AFTERMARKET ASSASSINS PVCX 2015+ RZR 900 S/XC/TRAIL
Big horsepower gains!  As you probably know, the 900 RZR motor for 2015-Up is very detuned from the factory.  The throttle is limited by only allowing so much air to enter the motor before it closes throttle to see the acceptable amount.  These limits are hard to break, especially all the way to redline.  Many other tunes will open the throttle a little more at first, but then still close when you get over 8000rpm.  This is why it's important to see a dyno sheet or data log run up to top speed where it will eventually hit the rev limit.  If power or throttle tapers off, you know the tune is not as good as ours.  That being said, horsepower gains depend on air conditions such as temperature and altitude.  If you have less air to start with such as in very hot temps, or at higher altitudes, your throttle will open more(with the stock tune) than those in low altitude or colder temps.  Basically, no matter where or what temperature you ride in the stock machine will make the claimed 75hp to the crank.   Now lets say we are dynoing at low altitude on a cold Minnesota day of 10 degrees.  We load this tune in for 100% throttle no matter what, now we can make huge horsepower... let's say 95 crank hp.  Lets take that same machine and go to Florida with some nice hot sticky weather in the summer.  We might only make 85 crank horsepower.  Moral of the story is that on this particular model, your horsepower gains vary depending on temp and altitude.  No matter what we promise you will notice a huge gain, and not even be close to a stock 900.  Average gains for your low altitude riding in 50-70 degree weather will be around 15hp.  We guarantee no one else is making any more power than our tune, despite claims of higher horsepower which were made in colder temps.  
MUCH quicker throttle response and power delivery
Throttle by wire limiters disabled - 100% throttle!
AA's wicked timing curve is setup for 91 octane and delivers a huge punch in the mid range and much better top end power
Fuel tables optimized for this motor and to go with our timing curve with 100% throttle
Fan on/off temp lowered to 190/185 degrees Fahrenheit
Seatbelt limiter disabled
2 Foot Limiters Disabled (gas/brake at the same time)
Speed limiter removed in low and high gears - Most will see 7-10mph actual top speed gains! 
Rev limit at a safe 8800rpm
See how to install the tuner in this

 

VIDEO

Very easy to use tuner that can also check and erase most trouble codes
Easily data log 25 parameters with 1 push of a button and review on your windows computer later
Level 1: Huge increase and is designed to work with the stock exhaust.  A slip-on will work with this tune, but you can pick up a little more by going to our level 2 tune if you have a slip-on or full exhaust. 
Level 2: Same as level 1, just with increased fueling for a slip-on or full exhaust system.
To help better transfer the power gained to the wheels, and to achieve proper peak RPM, we highly recommend our AA Recoil clutch kits! 
Due to the time to it takes to custom program these tuners, we will ship within 24-48 hours of purchase.