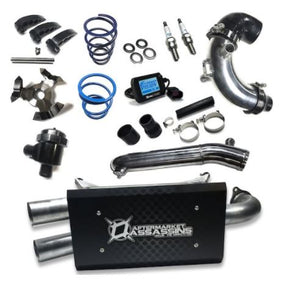 AFTERMARKET ASSASSINS STAGE 3 LOCK n LOAD 2017+ RZR XP TURBO
$1,75000

$1,750.00

Save $100
---
---
Massive horsepower gains bundled in to a simple package
Quicker throttle response and power delivery
All level tunes feature: Throttle by wire limiters disabled, No overboost code, Fan on/off temp lowered to 185 degrees Fahrenheit, Seatbelt limiter disabled, Speed limiter removed in low and high gears, Rev limit at a safe 9200rpm, more throttle in low gear, better throttle response, and much more! 

1 tune is included in the price.  We would recommend going with 2 tunes, especially if you choose level 3 or higher.

All tunes level 3 and higher will need the wastegate rod adjusted shorter for maximum power.  See this

 

VIDEO

 

on how to adjust it.
For reference; a 2017 Stock machine will dyno at 125-130rwhp
Level 1: modified stock power level tune, but has better boost maps to help keep you in the power.  We disable many limiters, up the speed limit, rev limit, and make necessary fuel & timing changes. The 2017 factory tune runs a max of 15-15.5psi of boost, and we keep that in this tune, it's just easier to obtain & maintain that level.
Level 2: offers 16-16.5psi of boost and a 10-15rwhp gain.  This tune can be used with the stock or aftermarket exhaust.  Clutching is highly recommended with this tune, as just tuning the machine will not properly transfer the power to the ground.  91 Octane tune.
Level 3: Hitting hard at +20-25rwhp, this tune offers the highest boost possible(17-17.5psi max) on 91-93 octane fuel.  Due to the thicker head gasket and larger injectors on the 2017 models, we are able to get away with his kind of power on pump fuel. These are absolutely huge power gains that will have you grinning from ear to ear.  This tune must be used with an aftermarket exhaust and requires clutching.  91 non ethanol/non oxygenated fuel, or 93 octane is required. If fuel in your area is poor, we'd suggest using a half can of VP Madditive or Torco Accelerator to help fuel quality.  1/2 gallon of 110 or better race fuel would also work to boost octane levels.  DO NOT USE ANY AV GAS WITH THIS TUNE OR ANY TUNE NOT DESIGNED FOR THAT FUEL.  Wastegate rod adjustment is needed for maximum gains.  Billet BOV is also recommended. 
Level 4: runs on 97-100 octane fuel and hits around 18-18.5psi max boost on race fuel. From testing, we know that this is the limit of the factory turbo before it becomes inefficient and simply starts blowing too much hot air. We correct many maps for this octane rating, assuring the most possible power.  This tune pack a huge punch with just a small amount more octane.  To reach the 97-100 octane rating, we would recommend a can of TORCO accelerator or VP Madditive.  You can also use 2 gallons of 110 or higher race fuel per tank... all mixed with 91 octane fuel. Exhaust and clutching are needed with this tune. Wastegate rod adjustment is needed for maximum gains.  Billet BOV is also recommended.
Level 5: If you don't like to lose races, this tune is your friend.... and If you're friends don't like to lose either... they might not be your friends for long.  This tune is developed for 110 octane fuel (unleaded is recommended if you are keeping you plan on running your o2 sensor) and really hits hard.  This tune runs around 18-18.5 max psi.  This is where we found the turbo to max out for the most part, so we went to our timing tables and did some work.  Adding a revised timing curve with these boost pressures is a recipe for absolutely stupid power that hits harder than you can imagine.  Wastegate rod adjustment is needed for maximum gains. Exhaust and clutching are needed with this tune.  Billet BOV is also recommended. Max boost levels are listed as reference only. Altitude, temperature, charge temps, intercooler temps and many other conditions play into a factor of final boost output. AA tunes do a better job of making sure you reach these levels as the factory tunes are overly safe.
Level 6: This tune is developed on the stock injectors and stock fuel pump for E85 fuel... that's right, just gas up and hammer down.  E85 is a great race fuel replacement as it runs very cool and can sustain high boost and advanced timing maps..... which equal awesome power!  We crank out all our level 5 tune has and even a little more.  Keep in mind E85 takes about 30% more fuel to run, so it will guzzle fuel fast.  This tune runs an average of 18-18.5 PSI of boost and will require you to adjust the wastegate.