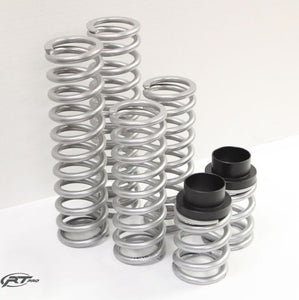 RT PRO RZR 800 XC DUAL RATE SPRING KIT
RT Pro RZR 800 XC Dual Rate Spring Kit
After years of testing, development and several years on the market, RT Pro has proven to have the best replacement spring options for the Polaris RZR's. They are happy to release the newest option for the RZR 800 XC. This is a RT Pro D.I.S.S. Dual Rate Kit which gives a substantial improvement in ride quality while improving handling as well at G-out resistance. They've found the perfect combination of spring length to rate ratio and are very happy with the results. This kit is for all four corners of the machine. It provides a short spring, a long spring and a delrin spacer for each shock.
This kit is 100% MADE IN THE U.S.A. and RT Pro is VERY proud of this!
Standard - rate kit works great for 2 people without a ton of extra gear loaded beyond what the average owner takes with them for a day on the trail or dunes.
Heavy Duty - kit is recommended when carrying 2 larger people and a lot of gear most often.
Kit includes (6) springs and (2) spring spacers.
All springs come with silver powdercoat.