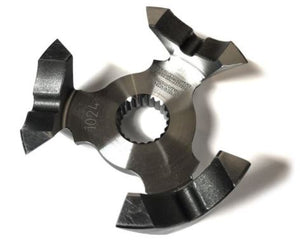 AFTERMARKET ASSASSINS CUSTOM CUT HELIX 2016+ RZR XP TURBO
AA's custom cut helix for the 2016-Up RZR XP Turbo
Purchase this if you already have our clutch kit, or if you have another brand clutch kit
2016 models will require upgrading to the 2017 helix buttons (Purchase these

 

HERE)
Our custom cut helix which will give you better power to the wheels on 2017-18 models because of the steeper angle.  On 2016 models you will see quicker RPM climb into peak power, and better belt life.  All models will see a more consistent RPM sweep.  Factory helixes start off steep, then go shallower on the top end.  For turbo machines, this is completely backwards. We run a straight angle as changing the load on a heavy machine in the middle of a shift can cause some issues.  Basically, 2016 helixes were too steep and therefor had belt issues, 2017 helixes went MUCH shallower and the performance to the wheels suffers.  We found just the right angle to make everything happy with great belt life and great performance.
This will come with our S3 clutch setup instructions.  If using another brand clutch kit, drop roughly 3 grams of primary clutch weight on a 2017-Up model, and add roughly 3 grams on a 2016 model.
While this helix angle will work great for 90% of people, we also have other angles available.  If you are running really big tires such as 34" or larger we need to run a shallower angle.  If you are running 31-32" paddles we can also run this shallow angle.  If you are drag racing and need a really quick shift out, we have a much steeper angle for this setup.