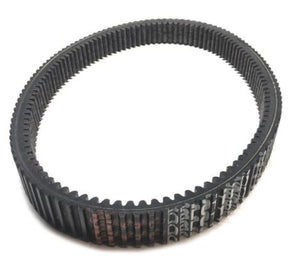 AFTERMARKET ASSASSINS GBOOST BELT 2016+ RZR XP TURBO
Belt fits 2016, 2017 & 2018 RZR XP Turbo Models
The only belt we trust and have tested with (and that's been many of them!) that is as strong or stronger than OEM
High temperature, heat resistant polymer DUMAX (TM) with directionally-oriented fibers under the base cord construction 
Will handle the power heat/friction for maximum power transfer
Engineered to keep maximum under-cord stiffness across the belt while giving stable cord construction base and allowing the belt to flex for efficiency and cool running temps. 
CORD - Next generation, ultra-strong Aramid fiber cord (S-Compound and E-Compound models) can handle/carry more than 10,000 pounds of tension without stretching or breaking. 30% stronger compared to OEM and aftermarket drive belts. E-Compound Turbo Belts are Carbon Fiber with DUMAX (TM) high-temperature compound. 
TOP COG - Next generation cog design with DUMAX (TM) compound for above-cord strength, flexibility, and heat resistance. This is a must for today's high-horsepower/high-torque motor/clutch applications. 
Stronger cord construction 
Higher Temperature Compound 
Belt prep/break in:  This is very important!  Proper belt break in can be the difference in how long your belt lasts, and how well it performs.  We recommend using a Scotch Brite pad with warm soapy water and scrub the belt edges to remove all oily residue.  Then rinse the belt to remove all soap.  Let it dry completely.  Install the belt on your machine.  Go run in low gear at 25-35mph keeping a consistent low load on the belt for around 10 minutes.  Let the belt completely cool, then do repeat this heat cycle another time or two.