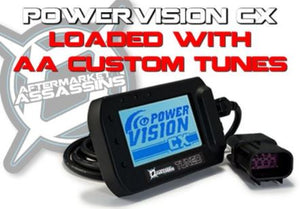 AFTERMARKET ASSASSINS PVCX 2016 RZR XP TURBO
Massive horsepower gains
Quicker throttle response and power delivery
Throttle by wire limiters disabled
Tunes will not throw an overboost code
Fan on/off temp lowered to 190/185 degrees Fahrenheit
Seatbelt limiter disabled
Speed limiter removed in low and high gears
Rev limit at a safe 9200rpm
See how to install the tuner in this

 

VIDEO

No mess of having to send in your ECU and this is a much safer way of programming your ECU
Very easy to use tuner that can also check and erase most trouble codes
Easily data log 32 parameters with 1 push of a button and review on your windows computer later
We update your device to make sure the tuning process goes smoothly

1 Tune (along with your stock tune) is included in the initial price.  Additional tunes are $50 each.  We would highly recommend 2 tunes so you have good options if you run into poorer fuel quality.

Level 1: great increase in boost showing a 25-30rwhp gain at 14-14.5psi of boost maximum. This tune is extremely responsive, and will be your "hold it pinned for a mile" tune. Very easy on the motor, yet big power. Basically the same boost level as the factory 2017 mapping. If you are just looking to upgrade to you This tune works excellent with the stock, or aftermarket exhaust. Stock clutching can be used, however clutching will provide a bigger difference.
Level 2: offers 15-15.5psi of boost and a wicked 30-35rwhp gain. This level 2 tune gives you reliable and big power you can hammer on all day. This tune can be used with the stock or aftermarket exhaust.  Clutching is necessary to properly transfer the power to the ground. 91 Octane tune.
Level 3: offers 100% maximum horsepower on pump fuel!  Running 16-16.5psi of boost max, we gain a huge 40-45rwhp! Requires 91-93 octane fuel. If you are running 91 octane, be sure it's non ethanol & non oxygenated. If your area does not offer quality pump fuel, a half can of VP Madditive or Torco Accelerator will work. A small mix of a 1/2 gallon race fuel would also work to boost the octane to a safe level.  Exhaust is recommended.
Level 4: runs 17.5 PSI max and will really throw down the power! 50-55rwhp gains have been seen with this boost pressure.  This tune requires 110 octane fuel with the stock injectors.  We would recommend unleaded 110 for use with your o2 sensor.  We also recommend shortening your wastegate actuator rod by 1.5-2 turns to prevent the waste gate from opening slightly, and limiting boost. This

 

VIDEO

 

shows how to do this.  Exhaust and clutching are needed with this tune.
Max boost levels are listed as reference only. Altitude, temperature, charge temps, intercooler temps and many other conditions play into a factor of final boost output. AA tunes do a better job of making sure you reach these levels as the factory tunes are overly safe.