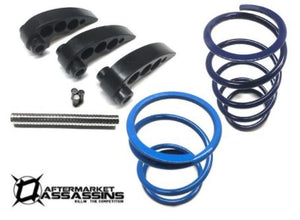 AFTERMARKET ASSASSINS S2 CLUTCH KIT 2016-18 RZR XP TURBO
Some will offer different clutch kits for 2016 vs 2017-18 models.  These two years do require different weight setups.  AA's kit is the same for both due to the weights being adjustable enough for both years.   Your setup guideline will let you know the correct setup for your year.
Fits 2016-18 RZR XP Turbo Models 2 & 4 Seat
Kits work great with both stock or modified machines
A must have when tuning your XPT
A must have when running larger tires or paddles
Huge acceleration gains
Wicked throttle response when on & off the throttle
More efficient power transferred to the wheels
More consistent clutch performance
Cooler running belt temps (especially when running larger tires or paddles!)
Longer belt and clutch life
Easily adjustable if needed
Slightly higher engagement which is still very smooth.  We highly recommend removing your primary limiter (plastic washer under the stock spring)
Easily upgradable to the S3 kit at a later date (just purchase the helix, and helix + buttons for 2016 models)
Our Recoil clutch weights are easily adjustable with simple magnets.  They have a custom AA profile, the BEST coating on the market(nitrocarburizing) which has increased wear resistance, improved fatigue strength, and added surface lubricity. These clutch weights also offer great performance, and the ability to tune for many different applications or modification in the future, without the need to buy extra parts.  The magnetic weights are the best option to properly place the mass where we need it on the weight for best performance for your application.
An initial setup guideline is included which shows the best setups for dunes, mud, or all around trail riding. This also has brief instructions on installing your clutch kit, and other important information.  
View installation instruction video HERE 
Kits include: AA Recoil magnetic adjustable clutch weights, primary spring, secondary spring, & setup guidelines/instructions.