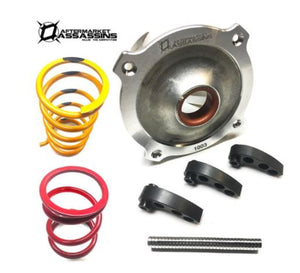 AFTERMARKET ASSASSINS S2 CLUTCH KIT 2016+ RZR 900
Fits 2016-17 RZR 900 S, Trail, & XC Models 2 & 4 Seat with the square slider secondary clutch
Kits work great with both stock or modified machines
A simply must have when running larger tires or paddles
Much faster acceleration
Wicked throttle response and quicker down shifts
More consistent clutch performance
Engine braking in the secondary clutch can be removed for more free wheeling when off the throttle
Less belt slap on the clutch cover which improves belt life and longevity
Cooler running belt temps (especially when running larger tires or paddles!)
AA's Recoil clutch weights are easily adjustable with simple magnets.  They have a custom AA profile, the BEST coating on the market(nitrocarburizing) which has increased wear resistance, improved fatigue strength, and added surface lubricity. These clutch weights also offer great performance, and the ability to tune for many different applications or modification in the future, without the need to buy extra parts. 
magnetic weights are the best option to properly place the mass where we need it on the weight for best performance for your application.
An initial setup guideline is included which shows the best setups for dunes, mud, or all around trail riding. This also has brief instructions on installing your clutch kit, and other important information.

S

tock Load kit: meant for stock or near stock size tires(28-29") and is the one for most fast pace trail riders or racers. 
High Load kit: meant for those with larger tires, mud tires, dune riders, and those with paddles.  Mudding and duning are considered high load and must be clutched slightly different. 
components for our mud and dune setups (high load) are the same, but you'll notice your setup guideline for the Recoil adjustable weights will be different between those two applications. 
Kits include: AA Recoil magnetic adjustable clutch weights, primary spring, secondary spring, AA custom cut helix, & setup guidelines/instructions.