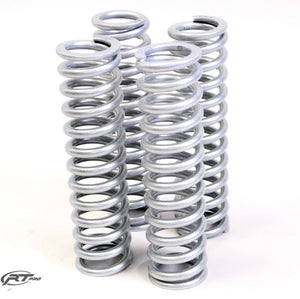 RT PRO RZR S 800 SACHS REPLACEMENT SPRING KIT 2011+
RT Pro RZR S 800 Sachs Replacement Spring Kit 2011+
The OEM springs on all RZR's are known to be made from very cheap material which wear out and sag extremely quick, are under rated and are poor performers. All RT Pro springs are manufactured in the USA from American steel. The quality and performance are unparalleled. This kit consists of 4 springs to replace all the OEM springs front and rear. The design uses linear rate springs which have best tested for performance and durability. RT Pro will not be releasing any dual rate springs for this model because the OEM shocks will not allow for a proper set up with the packaging provided. In our testing we've found these springs are all that is needed to get THE most performance out of the OEM Sachs shocks.
Two choices for spring rates.
Standard - Standard springs will bring the machine back up to the original ride height or a little more and provide a slightly firmer ride than the worn stock springs. They are perfect for a near-stock weight machine with average weight riders.
Heavy Duty - The Heavy Duty springs are perfect for machines with extra weight over stock or normal harder driving styles. They will give a little more height to a standard weight RZR than the mediums but not be so stiff they beat you up. The heavy rates on a stock weight machine will however make for a noticeably stiffer ride.