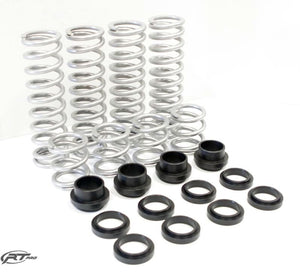 RT PRO RZR 900 4 DUAL RATE SPRING KIT
RT Pro RZR 900 4 Dual Rate Spring Kit
RT Pro introduces an amazing blend of ride quality and performance for the RZR 4 900. This kit is a complete set of dual rate spring for the front and rear which are 2.5" I.D.. This make this kit universal to all aftermarket 2.0" or equivalent shocks so if you ever decide to upgrade to aftermarket shocks you don't have to buy shocks with springs. You can take your RT Pro springs with you!
This kit includes adapter rings which convert the OEM upper and lower spring retainers from a 2.25" ID set up to the 2.5" springs that come in this kit. The kit also includes RT Pro's molded spring spacers. These are designed to slide up and down the body of the shock straight and true for a long time due to their precision design and high quality American material.
This kit is 100% MADE IN THE U.S.A. and we at RT are VERY proud of this!
This kit fits all year RZR 4 900
Standard - rate kit works great for 2-4 people without a ton of extra gear loaded beyond what the average owner takes with them for a day on the trail or dunes.
Heavy Duty - kit is recommended when carrying 4 full size people and lots of gear/accessories.
Kit includes (8) springs, (8) adapter rings and (4) spring spacers.
All springs come with silver powdercoat.