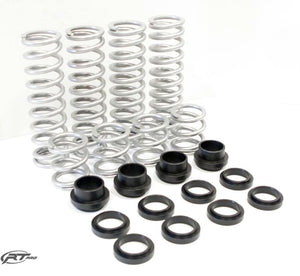 RT PRO RZR S 900 / S 1000 DUAL RATE SPRING KIT
RT Pro RZR S 900 / S 1000 Dual Rate Spring Kit
RT Pro introduces an amazing blend of ride quality and performance for the RZR S 900/1000. Dynamic Inertia Spring System (D.I.S.S.) has been proven for years in other replacement spring kits we sell and seems to get better and better for each model that comes out. This kit is a complete set of dual rate spring for the front and rear which are 2.5" I.D.. This make this kit universal to all aftermarket 2.0" or equivalent shocks so if you ever decide to upgrade to aftermarket shocks you don't have to buy shocks with springs. You can take your RT Pro springs with you!
This kit includes adapter rings which convert the OEM upper and lower spring retainers from a 2.25" ID set up to the 2.5" springs that come in this kit. The kit also includes RT Pro's molded Delrin spring spacers. These are designed to slide up and down the body of the shock straight and true for a long time due to their precision design and high quality American material. They will also last much longer than our competitors because they have better wear characteristics and built in UV protection.
STANDARD - For the 900/1000S, the Standard rate springs cover almost everyone. These will give you the best ride and performance at OEM height as long as you aren't carrying a lot of extra weight.
HEAVY DUTY - This kit is for customers running a lot of accessories and payload or customer looking to get height without a lift kit. However, if run for height this kit will make a much firmer ride. Some customers prefer a firmer ride for aggressive driving and increased stability and this is a good fit for them.
This kit is 100% MADE IN THE U.S.A. and RT Pro is VERY proud of this!
This kit fits all year RZR S 900 and RZR S 1000.
Verified it will work with the 2017 Walker Evans shocks as well.
Kit includes (8) springs, (8) adapter rings and (4) spring spacers.
All springs come with silver powdercoat.