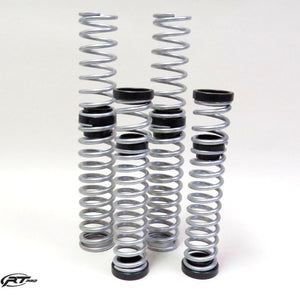 RT PRO RZR XP 1000 DUAL RATE SPRING KIT
RT Pro RZR XP 1000 Dual Rate Spring Kit
The XP 1000 is a completely different animal. It's suspension works unlike any other model in the past and unfortunately RT Pro didn't think it worked very well! The rear end lifts hard when braking and does not reset when getting back on the gas. This makes the RZR very top heavy in the turns and can cause a "two wheeling" effect which ultimately ends up in a roll over or at least, very slow and boring performance. Another inherent negative is the dreading "bucking" effect all RZR's are known for. No matter what the OEM says, it's still very apparent in the RZR XP 1000.
This spring kit has helped racers set track records while taking victories, in many different venues from desert racing to XC racing and everything else in between.
LIGHT - This kit was designed to lower the car at minimal preload. At minimum, the car at OEM weight should sit around 11-12" rear when measured from the bottom of the chassis using OEM sized tires and wheel offsets. The front will sit higher at 13-14". This kit is specifically designed for short course racing or any other application where a lowered center of gravity is desired and revalving is highly recommended for best performance.
STANDARD - This kit is for anyone running close to OEM weight and medium range driver/passenger weight and gear. This kit, with a moderate load should set the RZR at about OEM height in the rear and just a little taller in the front using OEM sized tires and wheel offsets. This kit is ideal for normal recreational driving with moderate loads and works well with revalved shocks. NOTE: If you carry a spare tire go straight to Heavy Duty.
HEAVY DUTY - This kit was originally designed for heavy desert cars running spare tires off the rear bumper, this is the kit for ANYONE carrying above moderate payloads or lots of accessories. A must if you're running a spare tire and also a good choice for moderate to aggressive trail riding or racing with OEM valved shocks. This kit allows the least amount of preload in the rear to achieve OEM ride height+ and a little more in the front when using OEM height tires and wheel offsets. This is the best kit for customers who aren't looking to revalve their shocks and the only kit we offer that will get more than OEM height in the rear with extra preload (although we don't recommend springs for lift).
This kit is 100% MADE IN THE U.S.A. and RT is VERY proud of this!
Kit includes (8) springs, (4) spring spacers and 4 front spring adapters.
All springs come with silver powdercoat.