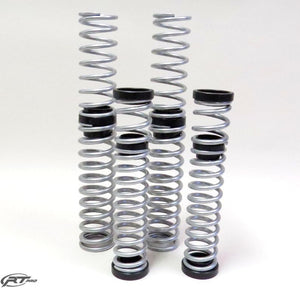 RT PRO RZR XP4 1000 DUAL RATE SPRING KIT
RT Pro RZR XP4 1000 Dual Rate Spring Kit
The kit was designed to lower the car at minimal preload. At minimum, the car at OEM weight should sit around 11-12" measured from the bottom of the chassis. However, since there is so much adjustment available on this kit it's easy to still maintain 13-14" of clearance by simply adding more preload. This kit will work for almost any RZR XP4 1000 no matter the setup. If you have a very light machine you can run minimal preload. If your RZR is loaded down with accessories and cargo most often simply turn up the preload until you achieve the desired ride height.
RT Pro found there was really only needed to be two rate kits needed for the 4 seat model.
The STANDARD rate kit works great for 2-4 people without a ton of extra gear loaded beyond what the average owner takes with them for a day on the trail or dunes.
The HEAVY DUTY kits are recommended when carrying 4 people and a lot of gear most often.
This kit is 100% MADE IN THE U.S.A. and RT is VERY proud of this!
Kit includes (8) springs, (4) spring spacers and 4 front spring adapters.
All springs come with silver powdercoat.